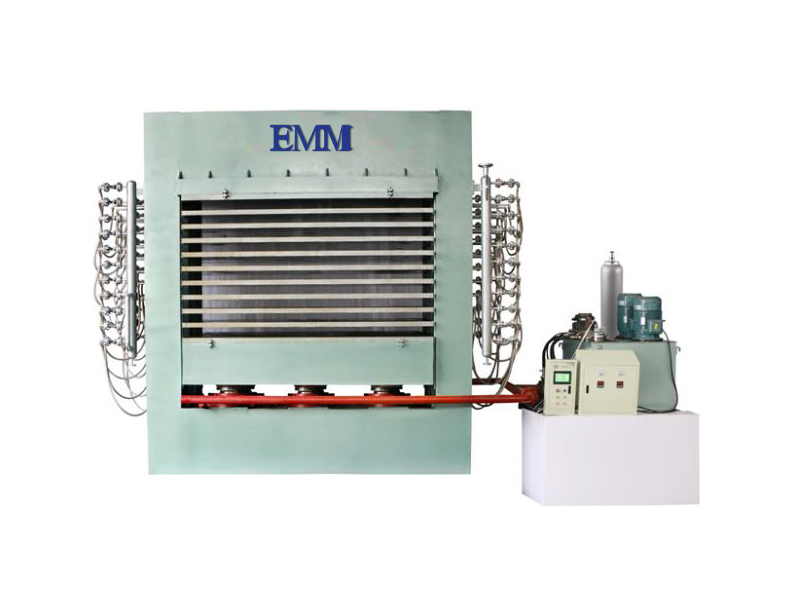 Product Description
---
EMM Multi-Layer Laminating Hot Press is used to produce wooded–based panel with various performance and construction, like plywood, blockboard and other laminated board, and also for overlaying of density board, particle board, and other laminated board with decorative paper & fabric, fireproof board, metal foil, artificial/wood veneer. Besides it could also be used for base panel drying and leveling, and decorative veneer leveling and forming.
Characteristic of Multilayer Laminating Hot Press
1.Stable high-speed operation,Max capacity:100pcs/hour.
2.Reliable quality and stainless steel base frame.
3.High-quality end products for high-grade requirements.
Application of Multilayer Laminating Hot Press
1.It is suitable for making melamine faced plywood and phenolic building template.
2.Making high-gloss melamine faced MDF.
3.It is suitable for laminating all kinds of decorative material in one side of MDF, particle board, plywood, blockboard.
4.It is suitable for making plywood and for board drying.
Our advantages
Electrical control system:
1.Electrical box, computer-use touch screen;
2.Pressure and time can be setted easily;
3.Display daily productivity, convenient management;
4.Password setting:prevent manual operation;
5.With fault detection, maintenance easily.
Cartridge valves type hydraulic system:
1.It is made up of hydraulic oil cooling system and accumulator.
2.Stable operation and high efficiency.
Optional parts:Lifting table
Optional parts:Boiler
Packing & Delivery
Packaging Details: Small and important parts packed with plywood case,large and common parts bundled and uncovered for Multilayer Laminating Hot Press
Delivery Time: 60 days after payment for Multilayer Laminating Hot Press