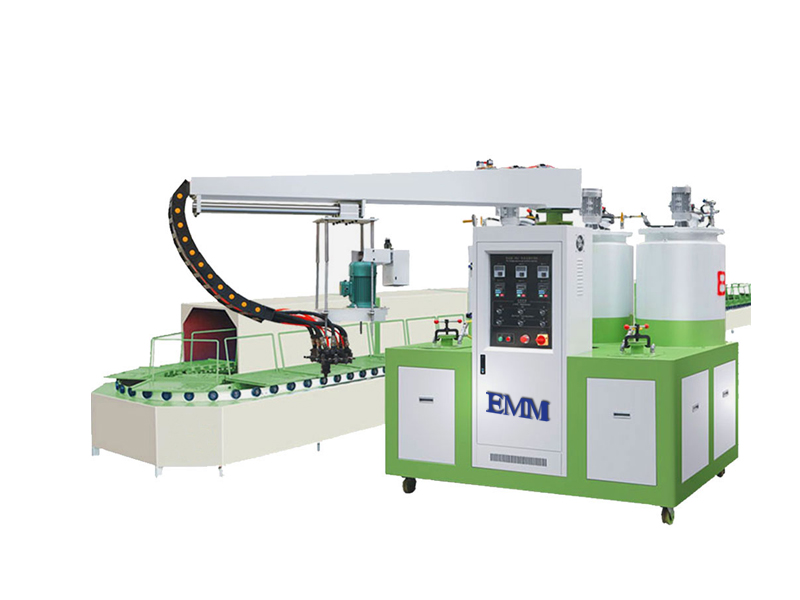 Brief description
---
The technology we used is from Germany. We can provide you top level machines with competitive price and perfect services. We are integrated with design, R&D, production, marketing, and after-sales services.
Quick Details
---
Place of Origin: China (Mainland)
Brand Name: EMM
Model Number: DM-402
After-sales Service Provided: Engineers available to service machinery overseas
Type: FIPFG formed in place foam gasket manufacturing
Strip width: Micro type: 2-8mm; Standard type: 5-30mm
Technology: Mixing head designed and manufactured in Germany
Dosing system: Barmag metering pump
Control system: Taiwan Syntec CNC system with hand controller
Driving system: Panasonic servo motor
Cleaning system: Water rinsing, built-in the mixing head.
Working speed: 0-12m/s, usually be 6-10m/s
Raw material: Polyurethane, PU, Silicon, other liquid material
Certifications: CE, ISO, RoHS, SGS, CQC, etc.
Product Description
---
2 components EMM automatic PU foam sealing gasket making manufacturing machine
This machine can mix two kinds of raw material together and pour to pre-set position, groove, mould, or the flat surface of workpiece etc directly. Through chemical reaction, the liquid raw materials form elastic sealing strip in seconds. There is no joint or cut point, so comparing with other kind of sealing its effect is much better and with longer using life. And, during the forming process, the sealing strip surface become very smooth and without any crack, so its sealing effect is perfect. And, because it can stick on the workpiece naturally and tightly, no gluing worker is needed, huge cost is saved from labor and time, etc.
Foam sealing equipment is used more and more in sealing fields like controlling cabinets, lighting, motor vehicle, machining industry, etc. It is leak proof, oil proof, water proof, damping, noise proof, and sealing, etc. It is in accordance with certifications like UL/CE, MIL-STD-167, EN50298, and so on.
Gasket making machine Construction: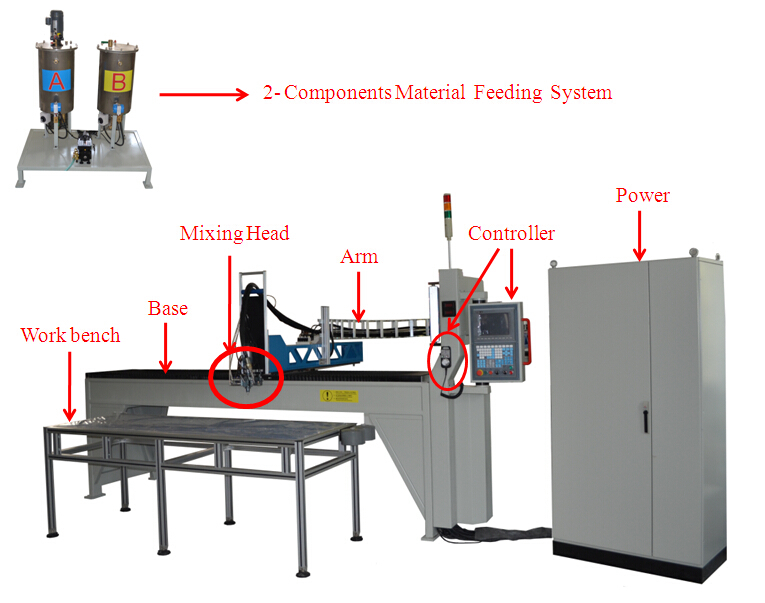 Gasket making machine Raw Material Reaction Principle: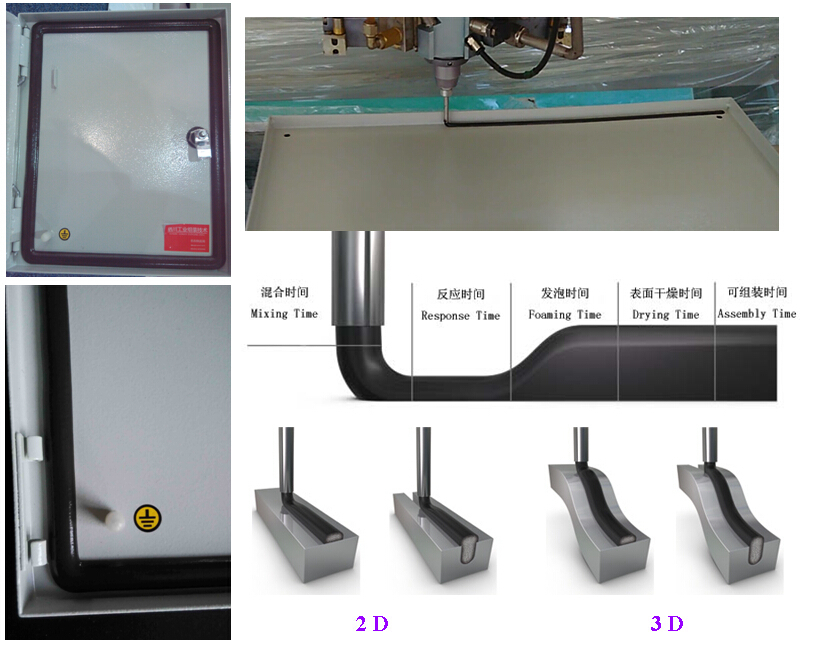 Gasket making machine Main Parts
---
1. Mixing Head:
Water Rinsing & Modular Design
2- / 3- component mixing head with high-pressure water rinsing system and dynamic mixing system, for use with liquid to high-viscous polymer reaction materials for gasketing, gluing and potting.
2. Operation System:
CNC System from SYNTEC, 180 degree rotating freely, Multi-language selection, Storing huge frequently-used information, Plus USB interface and G-code program, Manual operation is for choice also, Can be operated simply.
3. Raw Material Barrels:
Double walled stainless steel, control temperature automatically.
4. Work bench:
Aluminum alloy, strong and durable.
5. Dosing System:
Barmag metering pump, Panasonic servo motor, Microscale gluing is workable.
6. Hand Controller:
SYNTEC made, easily control, response quick and steady.
7. Driving system:
Panasonic servo motor, work steady, long using life, can keep working for dozens of hours.
Our Gasket making Machine Equipment Advantage:
Our Company, Jinjie
Some other companies
Technology
From German, top level, mature and stable
R&D in China, Chinese level,
in developing
Mixing Head
Made in Germany
(Germany manufacturing and processing technology, and quality)
Made in China,
Chinese quality.
Working Mode
2D or 3D for choice
(could process special 3D patterns)
2D only
Control Mode
8 axis linkage as a whole
(1X+1Y+1Z+2Mixing+2Reserved, Could adjust & change to 3-components equipment or adding auto material feeding system according to needed.)
3 axis + other control systems,
need matching
Gluing Width
(Standard type)
5-30mm
8-30mm
Gluing Width
(Micro- type)
2-8mm
3-8mm
Repeat Positioning Accuracy
 +/-0.03mm
 +/-0.05mm
Dosing
0.5~5g/s
1~4g/s
Continous
working time
can keep working for a whole day
(there is a special coating on the mixing head to prevent residual)
Frequently temporarily stop
for cleaning residual
Processing capability
of factory
machine shop belongs to ourselves, Jinjie
Processed by another company,
then assembled in another place.
Offer
Very competitive
Higher
Gasket making machine Standard type equipment specifications:
Technical Specifications
Some Other details
Mechanical Arm
 6*3 m
Technology
From Germany
Workbench
 2.4*0.9 m
Mixing Head
From Germany
Material Bench
 1.2*0.85 m
Operation
From Taiwan Syntec, CNC system
Working Stroke
 2.4*1.2*0.25 m
Hand Controller
From Taiwan Syntec
Gluing Width
 5-30 mm
Motor
Panasonic Servo Motor
Gluing Precision
 0.01 mm
Metering Pump
From Germany, Barmag
Working Speed
 0-12 m/min
Cleaning
Water Risining
Max Speed
 30 m/min
Material Barrels
Double walled stainless steel, control temperature automatically
Repeat Positioning Accuracy
 +/- 0.03 mm
Control Mode
8 axis linkage,
1X+1Y+1Z+1mixing+2metering+2reserving
Dosing
 0.5-5 g/s
Working Mode
2D or 3D
Filling Accuracy
 0.1 g/s
Main Color
Silver gray, refer to picture, or black, red, ect. under discussing.
Mixing Speed
 0-3000 rad/min
Custom-made, OEM, ODM
OK, no problem.
Mixing Ratio
 1:10~10:1 Adjustable
Certifications
CE, RoHS, ISO, etc.