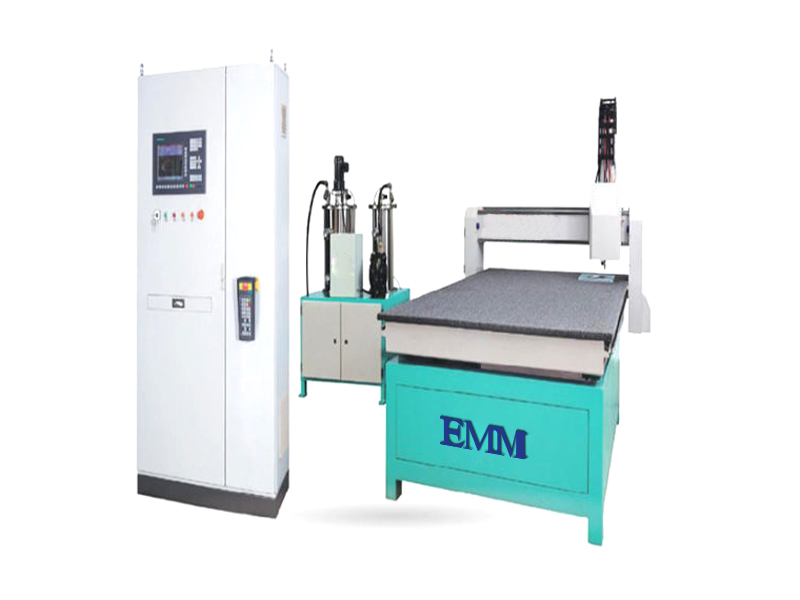 Feature:
---
1. Main unit: Material injection by a precision needle valve, which is taper sealed, never worn, and never clogged; the mixing head produces complete material stirring; precise metering (by a precision metering pump); single button operation for convenient operation; switching to a different density or color at any time.
2. Control : Single chip microcomputer control; TIAN electrical components exclusively imported to achieve the goal for automatic, accurate and reliable control can be imputed with more than 500 working position data; pressure, temperature and rotation rate digital tracking and display and automatic control; abnormity or fault alarm devices.
3. Raw material pot with a stainless steel interior; sealed foaming insulation; integrated stepless speed regulation automatic control motor and stirring machine; circulated oil heating; automatic constant temperature control for a better heat insulating and electricity saving effect.
4. This machine is used for the formation of various twin-color and single-color polyurethane soles and integrated uppers, for making various high and medium class leather shoes, casual shoes, safety shoes and travel shoes.
Characteristics:
---
The drying tunnel type annular production line has 80 working positions; the loop is 21m long; the drying tunnel is 16m long; the drying tunnel can be heated by electricity or oil; the temperature is automatically controlled; stepless speed regulating; universal casters are used for the carriages to make them run smoother. A lengthened and lately designed product line can be custom made to greatly reduce the friction between the casters and the guide rail, so that the assembly line will be running smoother, less noisy, and more endurable.
Main Parameter for EMM905 foaming machine :
Equipment Model

  

EMM-905

  

Power supply

  

All power of the machine 12KW,4*380V/60HZ

  

The type of applicable foam

  

Sole,insole, walking shoe, ect.

  

Flux of inject

  

50g-100g/S(Attention:the flux could be configured)

  

The press of infect

  

0.1MPA-3.99MPA

  

The mix proportion

  

100:60-120

  

Viscosity(22°)

  

POLY( polyethylene )500-2000MPAS

  

Viscosity(22°)

  

ISO( Multi-isocyanate )500-2000MPAS

  

Time of injecting

  

0.01-9.99/S( precision 0.01S)

  

Precision of injection

  

0.1/100

  

Process of injecting

  

Manual inject by PLC programmed

  

Pneumatic pressure

  

0.6-0.8MPa

  

Area

  

Wide:1.8M; High:2.85M; Long:3.5M

  

Weight of the machine

  

1.2ton

  

Pouring nozzle

  

With collision impact needle

Never wear

Never plug

 SCM Programmed computer(English demonstration)

  

It could control 500 patterns' capacity of injecting at the same time and could wash the Gas-injecting automatically

 heat system

  

It can automatic control temperature

 Raw material oven 4 drum

  

1 set

  

trimmer

  

1 set